Moutain Bike Contest :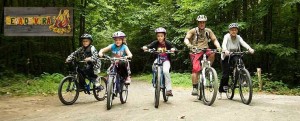 During our festival Ceva de Vara, the bike contest will take place on sunday 19th at 12.00. You are all welcome to participate. The track will mainly goes through forest and hills around our festival place in In Torsura Buzaului.
If you want to enjoy a nice race in nice aera, you are welcome there !! You do not need to pay anything, this event and this are completly for free !!
You can register on the facebook page : https://www.facebook.com/events/674229786043255/ and we will send you a register file afterwards.
Please come with your own bike because we cannot provide everyone !
See you there !